L527W Wireless Lock

Wireless Hotel Lock--- The most advanced networked hotel lock system

L527W Wireless Hotel Lock is another product which is designed for large hotel and office building, inherits all advantages of networked lock, work out the troublesome of networked lock cabling, make it easier to build up networked hotel lock and large office lock. The basic feature and networked feature coincide with other networked lock ( TCP/IP, RS485): through front desk, manager can download data to lock, remotely control locks, real time monitor the lock status; when open the door PC can instantly receive the unlocking records, etc.


Specification:

Keycard: 13.56MHz Card
Materials: Stainless steel
Surface Treatment: Stainless steel wire drawing + ABS plastic
Color: Silver
Mortise: ANSI 5 Latch, P2S P2L
Card Capacity: 150 cards
Record Capacity: 250 records ( send real time)
Battery: 4 AA 1.5V Alkaline battery
Working Current: <300mA
Dimension: 305×78×28 (mm)
(Optional GOLD, same price)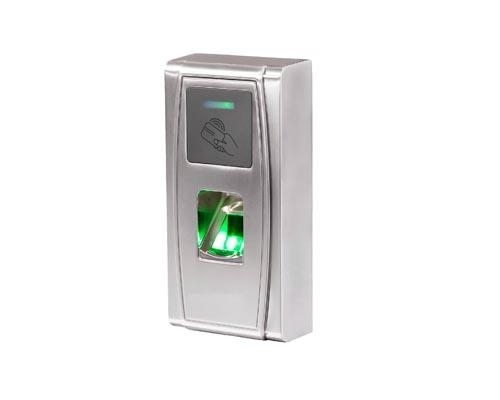 Product Introduction
FAC300 is an innovative biometric fingerprint reader for access control applications, offering unparalleled performance using an advanced algorithm for reliability, precision and excellent matching speed. The FAC300 features the fastest commercial-based fingerprint matching algorithm and high-performance, high-image quality optical fingerprint sensor. The device offers the flexibility to be installed standalone or with any third party panel that supports 26-bit Wiegand. The user can be enrolled by administrator card when the device works as a standalone access control. TCP/IP and RS232/485 are available that the device can be used in different network. TCP/IP communication makes sure the data transition between the device and the PC can be easily done within several seconds. FAC300 can be used in tough environment because of the IP65 protection index and the wide range of operating temperature.

Features:

· Fingerprint reader with durable and highly accurate optical sensor
· 1 touch a-second user recognition
· Stores 1,000 templates, 10,000 cards and 30,000 transactions
· Reads Fingerprint and/or Card
· Optional integrated smart card reader
· Built-in Serial and Ethernet ports
· Tamper-proofs switch and alarm outputs
· Request-to-exit and alarm contacts
· Real-time 1-touch data export 3rd party hosted & non-hosted applications
· Audio-Visual indications for acceptance and rejection of valid/invalid fingers
· IP65 protection index
· Wide range of operating temperature

Technical Specification
· Fingerprint Capacity: 1000 templates
· ID card Capacity: 10,000
· Transaction Capacity: 30,000
· Hardware Platform: ZEM700
· Sensor: Optical Sensor
· Algorithm Version: Finger v9.0
· Communications: RS232/485, TCP/IP, USB-host
· Access Control Interface for:Advanced Access Control, Wiegand Out/IN
· Optional Functions:13.56MHz Card
· Wiegand Signal:Input & Output
· Display:N/A
· Power Supply :12V DC
· Operating Temperature : -10 ℃- 60 ℃
· Operating Humidity: 10%-90%
· Index of Protection: IP65
· Dimension: 73*148*34.5mm
· Net Weight: 1.15kg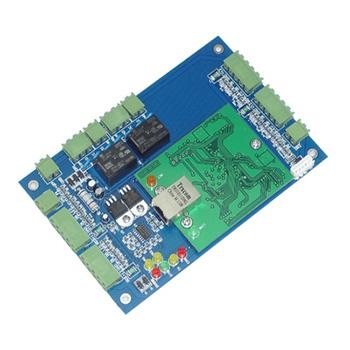 Product Introduction
TECHCREPOWER Access Control Panel provide the solution for powerful combinations of access control and alarm monitoring within off-line networks.
The user-friendly Access software programs the system within a few minutes, from a non-dedicated PC. Access Software provides numerous access control and alarm monitoring features: expiry date for clubs, automatic activation, interlock between two doors, time zones, supervision, anti-passback, activity reports...
Each alarm input is programmable: operating mode (NO or NC), time zones, local reflex (activation of outputs according to input status). Specific alarms are triggered according to the number of unsuccessful attempts, the time limit for door closing (door alarm), the duress code...
Whenever required, the data stored in the controllers is transferred to the computer and activity reports are printed. Each controller works independently and keeps its own database.


Parameter index:


PCB board size: 160mm long * 106mm wide Case Size: 273mm * 228mm * 65mm
Powersupply: 12VDC 4-7A
Circuit board power consumption: less than 100mA
Reader Input Format: Wiegand 26 (compatible with all readers under the agreement, such as Motorola, HID, EM, 13.56MHz card, etc.). Means of communication: TCP/IP 10M/100M self adaptive Function Description: can control two doors, enter via card swiping and exit via card swipping or button
Quantity of reader: 4pcs
Can control the gate output relay: 2pair
Open delay time: 1-600 seconds adjustable
Maximum number of connections: No limite Operating temperature: -40 to 70 degrees Celsius
Run Humidity: 10-90% RH, non-condensing
Signal output communication format and baud rate: Support LAN,Intranet, fix Ipinternet WAN. User registration card q'ty: 20,000 cards Permissions
Record the number of offline storage: 100,000 records
Power failure protection measures: high-speed flash memory design, and never lose data
Max distance between reader to the controller: 100 meters, suggest within 80 meters, Max distance for the bus line: Depends on network cover area Max distance between controller to the PC: No limite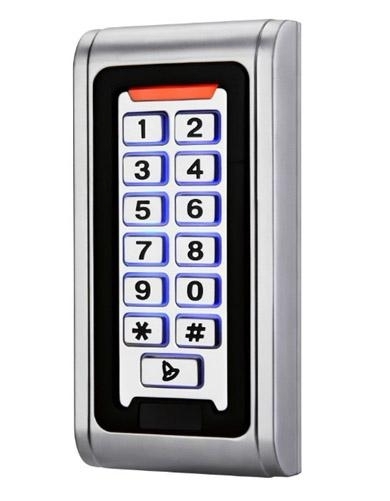 1. Product Description
The product is Contact-less inductive card Metal Password Access Controller, According to the model, respectively support EM, 13.56MHz cards, It is one of the most advanced stand alone access controller. It uses unique metal exterior design, Dexterity keyboard panel operation, Built-in high-grade microprocessors, Strong anti-interference ability, Safety and reliability is extremely high, can provide a powerful security for 2,000 users. It has strong functions, such as low power consumption, Luminous keyboard, independent passwords, wiegand output, the output short circuit protection, door magnetic alarm, prevent demolition alarm, exit button, the doorbell interface, level of security Settings, etc. widely used in home, office, residential area and other public places.
2. Features
-Luminous keyboard: the night can also operate keyboard
-User capacity: support 2,000 users
-Independent password: can use password which is irrelevant with the card to open the door
-User modification password: Users can revise the door password
-Wiegand output: With Wiegand output interface, Wg26 card number or Wg34 buttons output
-Usable keyboard delete card number: After card is lost, usable keyboard delete card, thoroughly eliminate safety lapses
-The demolition alarm: Illegal dismantling machine, built-in alarm sound buzzer
-The bell button and interface: key and circuit segregation, external any the doorbell.
3. Technical parameters

-125KHz EM cards
-Reading Range: 3~8cm
-Capacity: 2000 users
-Shockproof
-Backlight Keypad
-Wiegand26/34 output
-Card, PIN or Card + PIN Verification
-Have relay to control electric lock
-With external bell and external push switch
-Open time: 0 ~ 99 seconds (adjustable)
-Ambient Temperature: -25°C~60°C
-Electricity lock output: ≤3A
-Alarm output: ≤20A
-Work Voltage: DC9-28V
-Size: 120 *56*18mm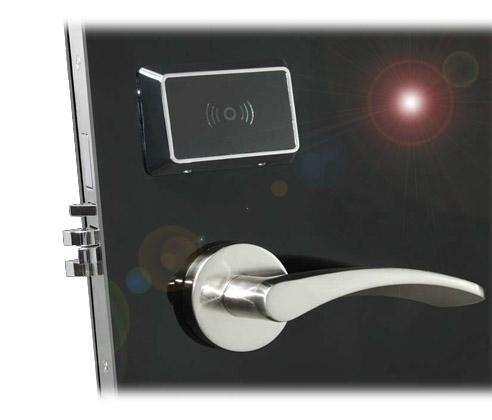 Introduction

L916 / 926-M hotel lock is our latest newly designed model for hotel application! It's made of copper finished with mirror polish, special design style for the cylinder, hidden under the reader, as well as the battery pack inside the mortise, convenient to replace new battery! Together with our user-friendly hotel management software, it works well for various hotels from popular to high level!


Specification
· Copper plus mirror polish; Wide handle Hidden style; Cylinder under the reader.
· Low consumption, high sensitive control PCB board.
· RFID Technology-Philips 13.56MHz 1 card (ISO14443A)
· Power: 4 pcs AA battery, 8-12 months' life
· 800 lock events saved circularly
· ANSI 5 latch mortise
· Low Battery Voltage warning (beep and red light)
· Passage mode for meeting case
· Lock & System operation record printable
· Hotel lock system (free) required
· Emergency key override
· 40mm-50mm thickness door